Welcome to the official site of The Digits!
Home | Gig Dates | Band Members | Blog | Song List | Sound Clips | Videos | Contacts
<![if !vml]>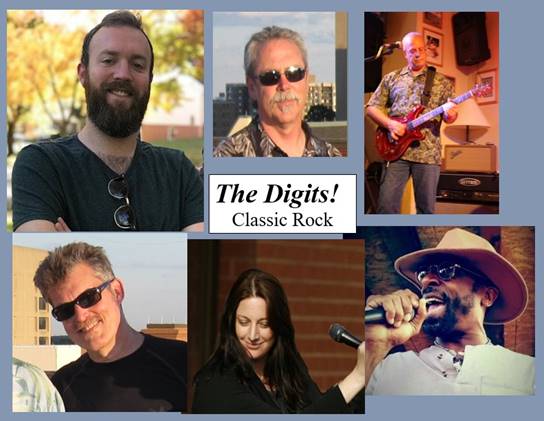 <![endif]>
… just good rockin' & fun times…helping to put Rockville on the map!
Next shows:
Friday, April 24, 2015. 
Spring is Sprung and The Digits!
The food is delicious, the atmosphere is downhome, and the band is playing classic rock all night long. Join us at Rockville's first Texas style BBQ restaurant for dinner and dancing. It's the first show of the 2015 season! Come on out and support Live, Local Music!
Where: BRANDED 72, 387 East Gude Dr., Rockville, MD. 301-340-8596
The Digits! start playing about 8:30 PM. 
Saturday, May 30, 2015
Hard Times Street Party! The Digits!  host a neighborhood street party sponsored by Hard Times Café. About 400 fans, friends, and families will attend this event.  A portion of the parking lot will be roped off for the expected large crowd; bring lawn chairs and blankets.  Carry out food and beverages are available from all the merchants. This is VERY family-friendly and The Digits! are so pleased to see our youngest fans. Many thanks to Hard Times Café for hosting this fun event for the neighborhood.
Where: Hard Times Café, 1117 Nelson St, Rockville MD 20850, 301-294-9720.
The Digits! start playing about 7:00 PM.
Saturday, June 6,2015
Glover Park Day - The Digits! play a killer set in this 5 band line-up. Come out and celebrate with this vibrant DC community.
Where: Corner of Calvert Street, NW, and Wisconsin Avenue, NW. Right near the Whole Foods on Wisconsin Avenue, NW. It's the 3600 block of Calvert Street, NW. 
The Digits! start playing at 2:24 PM. 
_______________________________________________________
A little "Digit" history…
From an informal group playing to friends and family at a swim club in suburban Washington, The Digits!  have coalesced into a locally popular classic rock band. We've played for groups as diverse as the Washington Post Company, Montgomery County Road Runners Club, and The Star Diner. We also appear frequently at the Woodley Gardens Swim Club in Rockville, for fund raising events open to the public.
The Digits!  provide an eclectic mix of old and not-so-old songs from the Beatles, Billy Joel, Doors, Grateful Dead, James Brown, Jimi Hendrix, Lynk Wray, Phish, Red Hot Chili Peppers, Rolling Stones, Toto, and many other favorites.  See partial Song List .
Booking:  Contact Tom Miner, Tom.Miner@LongandFoster.com, 301-873-2509 for available dates.
Sign up for The Digits! Fan Newswire
Home | Gig Dates | Band Members | Song List | Sound Clips | Contacts