Welcome to the official site of The Digits!
Home | Gig Dates | Band Members | Blog | Song List | Sound Clips | Videos | Contacts
<![if !vml]>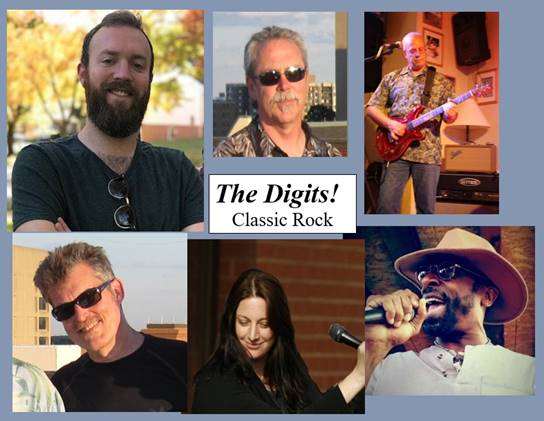 <![endif]>
… just good rockin' & fun times…helping to put Rockville on the map!
Next shows:                                                              
Saturday, March 15, 2014. 
Great menu & a fully stocked bar in a smaller, more intimate setting. Close enough to reach out and touch a Digit, but with enough room to dance!
Bring your significant others for a special evening.
Where: POTOMAC GRILL, 1093 Rockville Pike, Rockville, MD. (301) 738-8181,
The Digits! start playing about 9 PM.  We suggest you make a night of it, make dining reservations now as it's expected to be crowded. 
Please tell the Grill you're coming because of The Digits!
Saturday, March 29, 2014. 
Texas BBQ, Bourbon & Beer, and The Digits! Our first time at this venue and we're thrilled.  This place has been serving up great Texas BBQ since 1972.  In last couple of years, they've evolved into quite the music scene for Rockville.  They offer a robust bourbon and beer selection (and full bar) that really compliments The Digits! style of classic rock!
Where: BRANDED 72, 387 East Gude Dr., Rockville, MD. 301-340-8596
The Digits! start playing about 9 PM. 
Saturday, May 17, 2014. 
The Digits! perform at St. Mary's Parish 200th Year Celebration! Stand by for details.
Saturday, May 31, 2014. 
Hard Times Street Party! The Digits!  host a neighborhood street party sponsored by Hard Times Café & Carmen's Italian Ice.  About 400+ fans, friends, and families will attend this event.  A portion of the parking lot will be roped off for the expected large crowd; bring lawn chairs and blankets.  Carry out food and beverages are available from all the merchants. This is VERY family-friendly and The Digits! are so pleased to see our youngest fans. Many thanks to Hard Times Café and Carmen's for hosting this fun event for the neighborhood.
Where: Hard Times Café, 1117 Nelson St, Rockville MD 20850, 301-294-9720.
The Digits! start playing about 7:00 PM.
Saturday, July 12, 2014. The Digits! 8th Annual Benefit Concert! – benefitting organization TBD
Showtime: 7:30 PM to 11:30 PM
Where: Woodley Gardens Swim Club, 850 Nelson St., Rockville, MD, (301) 340-1012
Details: OPEN TO ALL.  We are asking for a $5 donation from all attending fans. The Silent Auction will be available for viewing and bidding from 7:30 to 10:00. 100% of the attendance donations and Silent Auction proceeds go to benefitting organization.
Saturday, August 23, 2014.
The Digits! perform during Rockville Uncorked Wine Festival.  Stand by for details.
_______________________________________________________
A little "Digit" history…
From an informal group playing to friends and family at a swim club in suburban Washington, The Digits!  have coalesced into a locally popular classic rock band. We've played for groups as diverse as the Washington Post Company, Montgomery County Road Runners Club, and The Star Diner. We also appear frequently at the Woodley Gardens Swim Club in Rockville, for fund raising events open to the public.
The Digits!  provide an eclectic mix of old and not-so-old songs from the Beatles, Billy Joel, Doors, Grateful Dead, James Brown, Jimi Hendrix, Lynk Wray, Phish, Red Hot Chili Peppers, Rolling Stones, Toto, and many other favorites.  See partial Song List .
Booking:  Contact Tom Miner, Tom.Miner@LongandFoster.com, 301-873-2509 for available dates.
Sign up for The Digits! Fan Newswire
Home | Gig Dates | Band Members | Song List | Sound Clips | Contacts